For Those Who Think Young
Olivier Millagou
Feat. Arnaud Maguet & Nico Morcillo
Commissariat : Julia Marchand
Production : Fræme
Panorama, La Friche la Belle de Mai, Marseille
Exposition du 26 octobre 2019 au 23 février 2020
Vernissage vendredi 25 octobre à 18h
Performance de Arnaud Maguet et Nico Morcillo à 19h

Skate Show vendredi 24 janvier de 17h à 19h et samedi 25 janvier de 16h à 19h
L'exposition d'Olivier Millagou sera exceptionnellement gratuite durant ces deux démos, spéciale filles le vendredi et mixte le samedi, par des skateur·euses sélectionné·es par BSM et Chloé Bernard.
Feat. Arnaud Maguet & Nico Morcillo
Curated by Julia Marchand
Production : Fræme
Panorama, La Friche la Belle de Mai, Marseille
Exhibition from October 26th, 2019 to February 23rd, 2020
Opening, Friday, October 25th at 6pm
Performance by Arnaud Maguet and Nico Morcillo at 7pm
Skate Show, Friday, January 24th 4-7pm and Saturday, January 25th 5-7pm
Free entrance during these 2 days.
Selected Skateboarders by BSM & Chloé Bernard.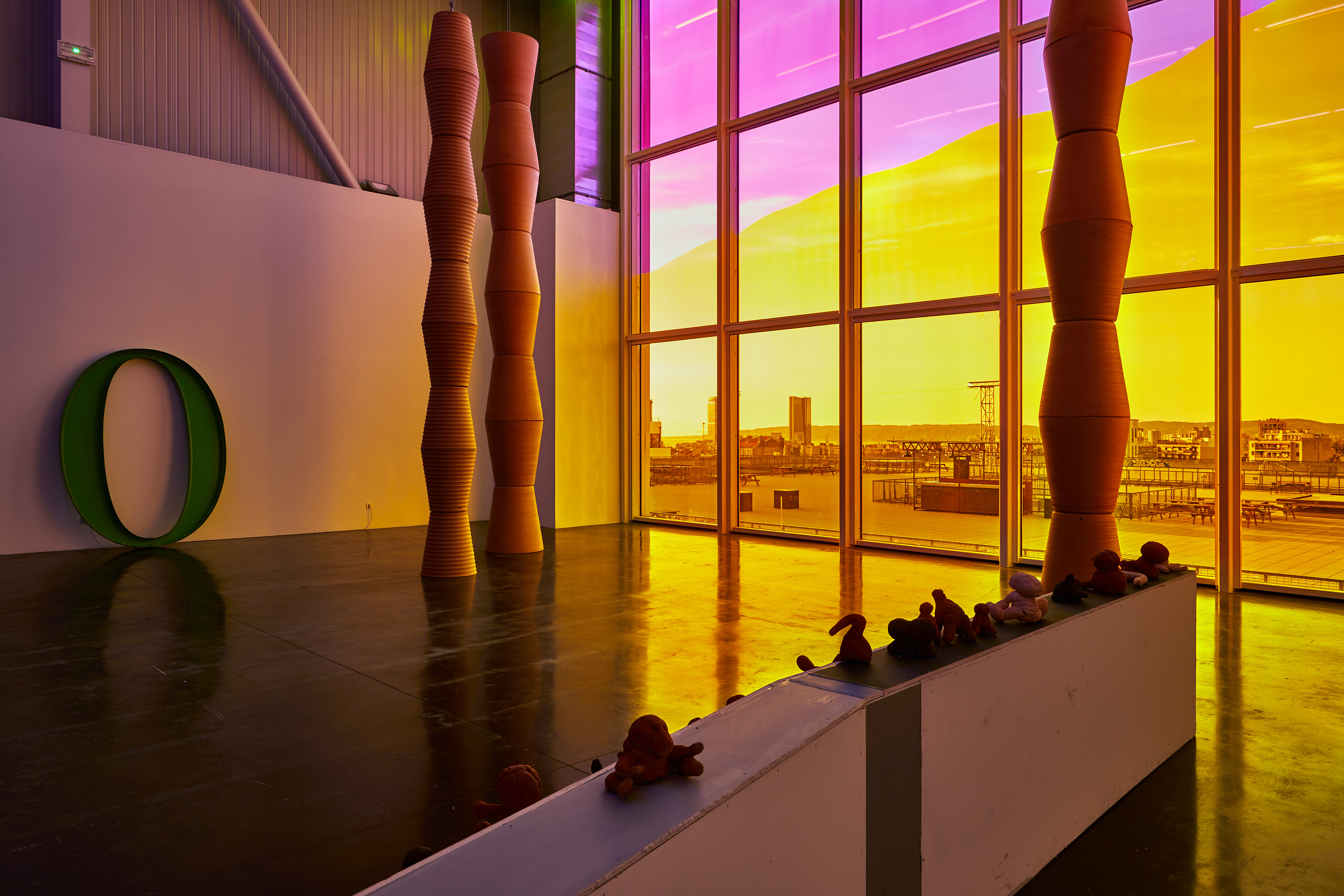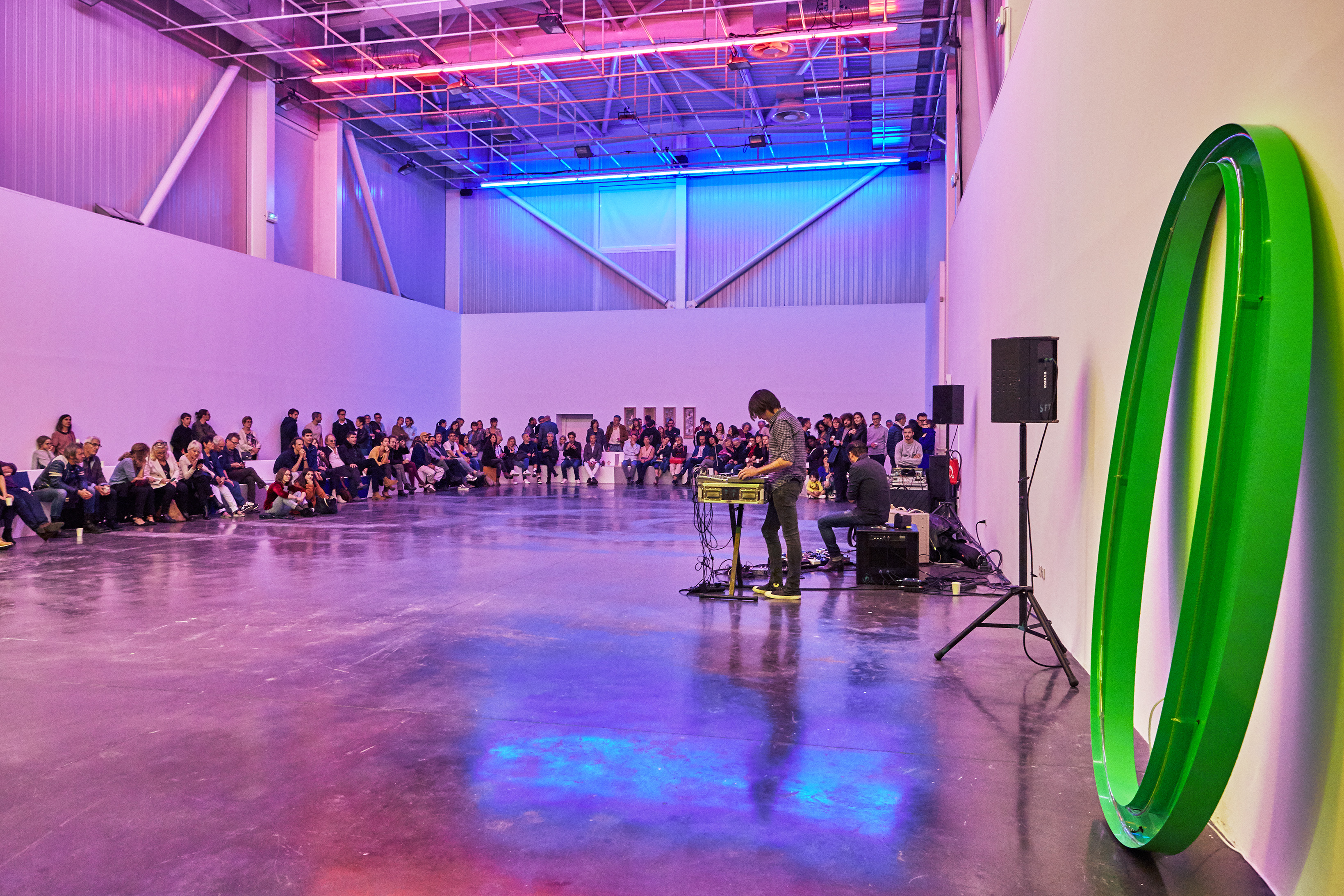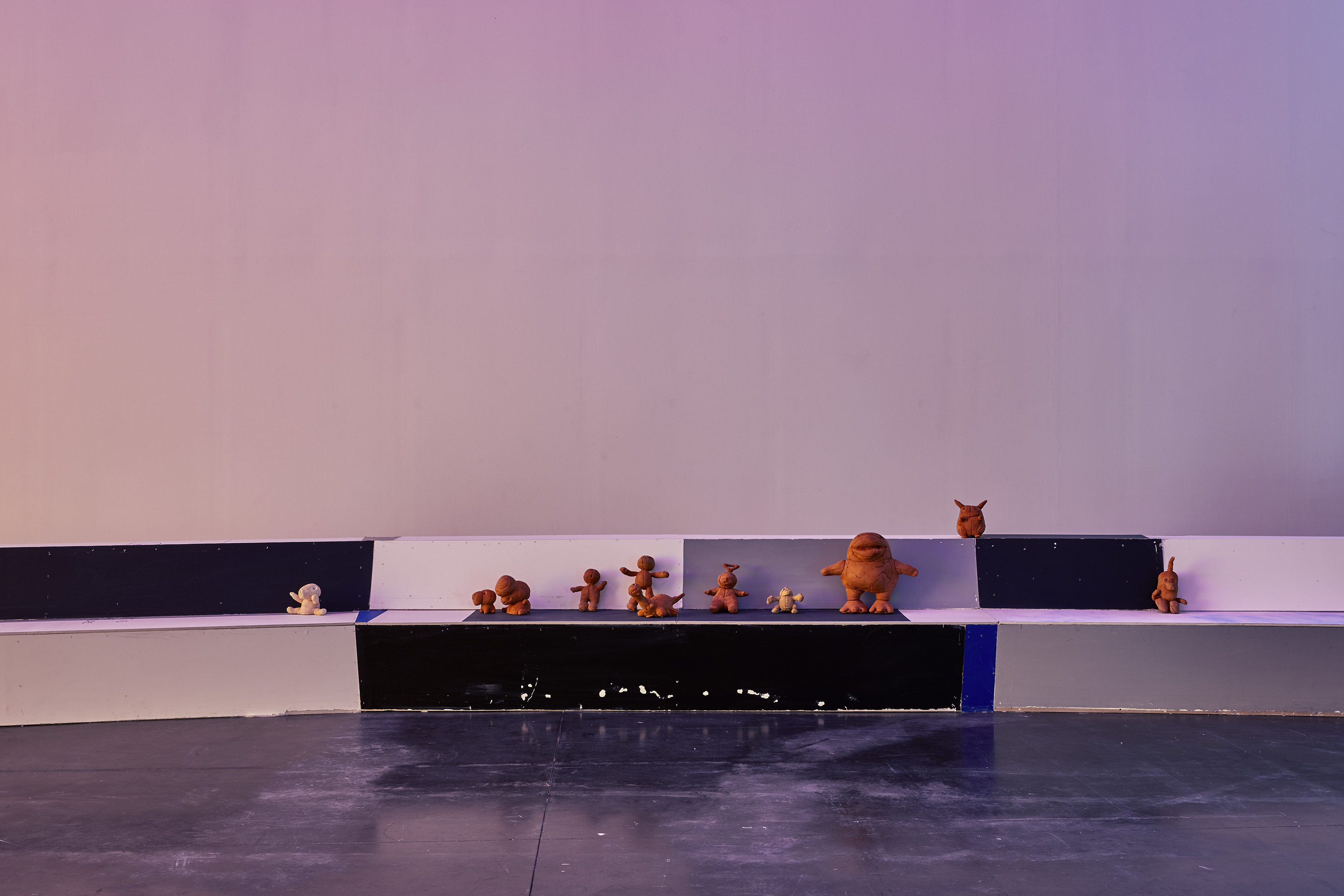 For Those Who Think Young fut le slogan choisi par Pepsi en 1961 afin d'assoir son impact auprès d'une société américaine principalement blanche, sportive, middle-upper class, souriante, une sorte d'hymne à la jeunesse éternelle comprise dans les termes de l'American dream.
Cette même accroche devint par la suite le titre d'un film sorti en 64, initialement intitulé A Young Man's Fancy, dont la marque de soda fut un des principaux sponsors. Cette réalisation de Lesley H. Martinson, sur fond de décor ensoleillé pour jeunesse dorée – et quelques placements de produits d'anthologie – suit les « affres » amoureuses d'un héritier fortuné sous le soleil de Californie. Si la planche de surf est un fil rouge du film, c'est en tant qu'accessoire de baignade et motif décoratif récurrent visant à combler graphiquement le vide du scénario.
Dans ce surf movie que l'histoire ne retiendra pas vraiment, tout est fun et glossy, et la superficialité de l'entreprise corrobore une opération idéologique et mercantile associant la jeunesse à l'oisiveté, l'obéissance, le consumérisme et la ségrégation. De cette image lisse et sans heurt qu'offre un certain cinéma américain, le film, visiblement borgne, ne présente qu'une vue orientée de l'Amérique des années 60, il en masque totalement les combats adjacents : de la mobilisation des africain·es-américain·es au sein des mouvements des droits civiques à la guerre du Vietnam.
For Those Who Think Young, envisagé par Olivier Millagou pour le Panorama, nous propose encore une nouvelle version, y introduisant comme souvent dans son œuvre l'envers du décor comme partie intégrante du dispositif. Le titre de l'exposition, nous l'aurons compris, n'a rien d'innocent, tant Olivier Millagou, expurge les chimères des conquêtes occidentales lorsqu'elles s'adossent à l'appauvrissement et à l'anéantissement de cultures lointaines.
Le désenchantement, chez l'artiste, surfe souvent la vague de nos conquêtes présentes et passées, là même où le métissage produit de l'amnésie. Les couchers de soleil se teintent de noir et le chant du ukulélé sonne étrangement sur la chaine Youtube de Kim Kardashian. Mais le désenchantement n'est pas une fin en soi, un horizon dystopique réconfortant qui sonnerait le glas d'un optimisme égaré.
De même, l'attachement aux territoires du sud n'est pas un artifice chez l'artiste, il doit se lire comme une revendication modeste d'identités locales connectées au global qui n'ôte rien aux spécificités des régions convoquées. Il y associe une éthique de travail qui s'éprouve dans un quotidien régulier, manifestement healthy et à l'empreinte carbone dérisoire, tournée vers une mer peu intempestive et le sable comme lieu de collecte et de production d'œuvres à échelle humaine. À l'encontre des initiatives qui excellent dans le greenwashing, la pratique d'Olivier Millagou ne fait pas de bruit précisément car elle applique, tout au long de son échelle de conception et de réalisation, une méthode raisonnable et respectueuse à l'écart, en silence, sur des vagues et en famille. S'y dessine, au fil des années, une esthétique d'existence, sortie tout droit des attitudes admirables de certains de ces camarades de vagues. Le surf s'éprouve aussi comme expérience temporelle sans rentabilité forcenée.
Ainsi, pour le Panorama, Olivier Millagou module le temps et réemploi des formes préexistantes sur fonds de rifs de guitare et de touches de synthétiseur. Mais les notes se sont comme enraillées et produisent inlassablement les sons du ressac. Les palmiers ont perdu leurs feuilles et citent en chœur Brancusi, formant une chorale fantomatique d'un lointain désirable et perdu, les carnets de voyages roulent dans l'espace et les couchers de soleils sont éternels comme un horizon qui tournerait en boucle, baignant un ensemble de peluches en terre cuite dans une lumière mordorée. Le désenchantement, s'il se produit, conduit également à une contemplation régénératrice.
Cette nouvelle version de For Those Who Think Young pensé par Olivier Millagou est une installation immersive faite de nouvelles productions mixant différents niveaux de réalités et de temporalités, où aussi l'artiste se saisit de l'invitation qui lui est faite pour l'étendre à quelques protagonistes relevant du champ musical ou encore du skate.
Envisagée en deux parties, là, où au sein du panorama à Marseille l'accent est mis sur le travail de l'artiste, La Villa Tamaris à la Seyne-sur-Mer répond par une série de collaborations d'hier et d'aujourd'hui impliquant et rassemblant de manière inédite toutes les tribus d'Olivier Millagou.
For Those Who Think Young is the slogan chosen by Pepsi in 1961 in order to influence a predominantly white, sporty, middle-upper class, smiling society, a sort of hymn to eternal youth understood in the terms of the American dream.
This same catchphrase then became the title of a 1961 film, initially named A Young Man's Fancy, for which the soda brand was one of the main sponsors. This project by Lesley H. Martinson, with a sunny golden youth background- and some anthology product placements – follows the love « torments » of a wealthy heir in sunny California. If the surfboard is a red thread of the film, it is a bathing accessory and a recurring decorative pattern to fill the gap of the scenario graphically.
In this surf movie that history will not really remember, everything is fun and glossy, and the superficiality of the company corroborates an ideological and mercantile operation associating youth to idleness, obedience, consumerism and segregation. From this smooth and flawless image offered by a certain American cinema, the film, visibly one-eyed, only presents an orientated view of the America of the 60s, it completely masks the adjacent battles: the mobilization of African-Americans in the civil rights movements in the Vietnam War.
For Those Who Think Young, intended by Olivier Millagou for the Panorama, suggests once again a new version, introducing as often in his work the back of the scenery as an integral part of the device. The title of the exhibition, we will have understood, is not innocent, as Olivier Millagou, expurgates the chimera of Western conquests when they rely on the impoverishment and the annihilation of distant cultures.
Disenchantment, for the artist, often rides the wave of our present and past conquests, even where blending produces amnesia. The sunsets are tinted with black and the ukulele oddly comes out on Kim Kardashian's Youtube channel. But disenchantment is not an end in itself, a comforting dystopian horizon that would sound the death knell of misplaced optimism.
Similarly, the attachment to the southern territories is not an artifice of the artist, it should be read as a modest claim of local identities connected to the global that does not detract from the specificities of the regions convened. He combines a work ethic that is experienced in a regular, obviously healthy and with a small carbon footprint, turned towards a little untimely sea and sand as a place of collection and production of works on a human scale. Unlike initiatives that excel in greenwashing, the practice of Olivier Millagou does not make any noise precisely because it applies, throughout its scale of design and implementation, a reasonable and respectful method away, in silence, on waves and with the family. Over the years, there is an aesthetic of existence, straight out of the admirable attitudes of some of these wave fellows. Surfing is also experienced as a time experience without any fanatic profit.
Thus, for the Panorama, Olivier Millagou modulates the time and re-uses pre-existing forms on guitar sounds and synthesizer keys. But the notes are as halted and tirelessly produce the sounds of the waves. The palm trees have lost their leaves and name in chorus Brancusi, forming a ghostly choir of a desirable and lost past, the travel notebooks are rolling in space and the sunsets are eternal like a horizon that would turn in a loop, bathing a set of terracotta stuffed toys in a golden light. Disenchantment, if it occurs, also leads to regenerative contemplation.
This new version of For Those Who Think Young, designed by Olivier Millagou, is an immersive installation made of new productions mixing different levels of realities and temporalities, where the artist also takes the invitation to extend it to some protagonists in the musical field or skateboarding.
Imagined in two parts, where, within the panorama in Marseille, the focus is on the work of the artist, La Villa Tamaris at La Seyne-sur-Mer responds with a series of collaborations from yesterday and today involving and bringing together in an unprecedented way all of Olivier Millagou's tribes.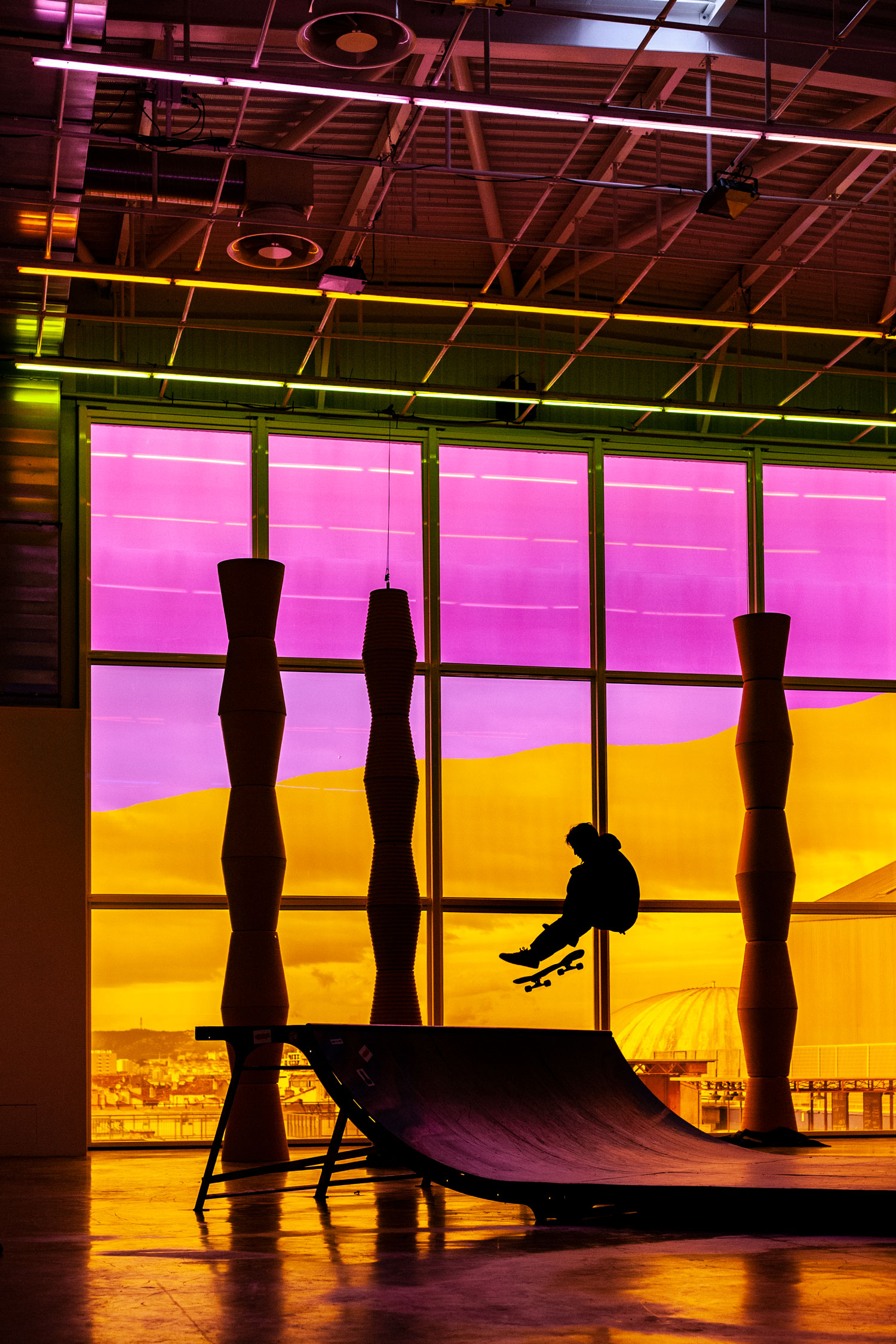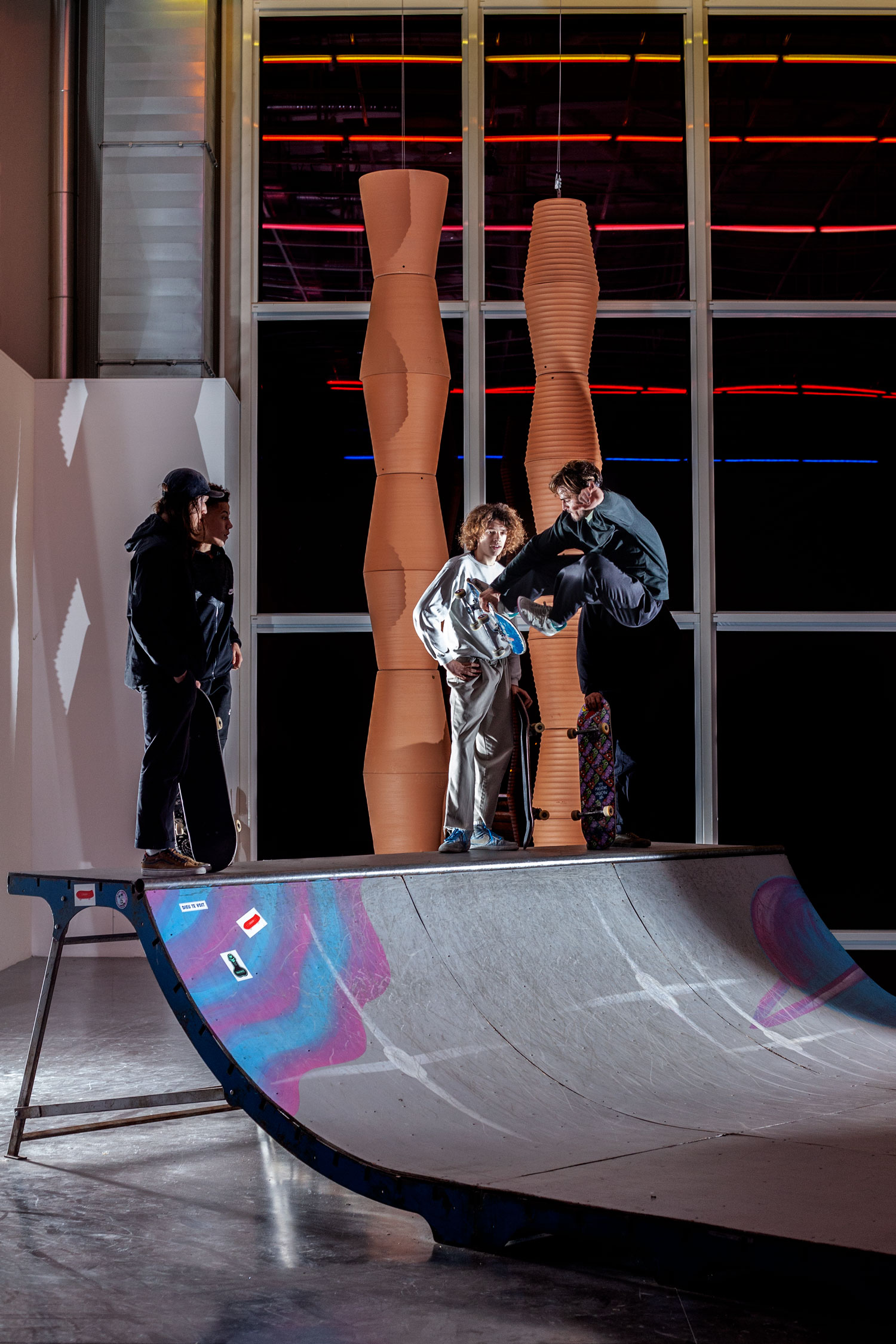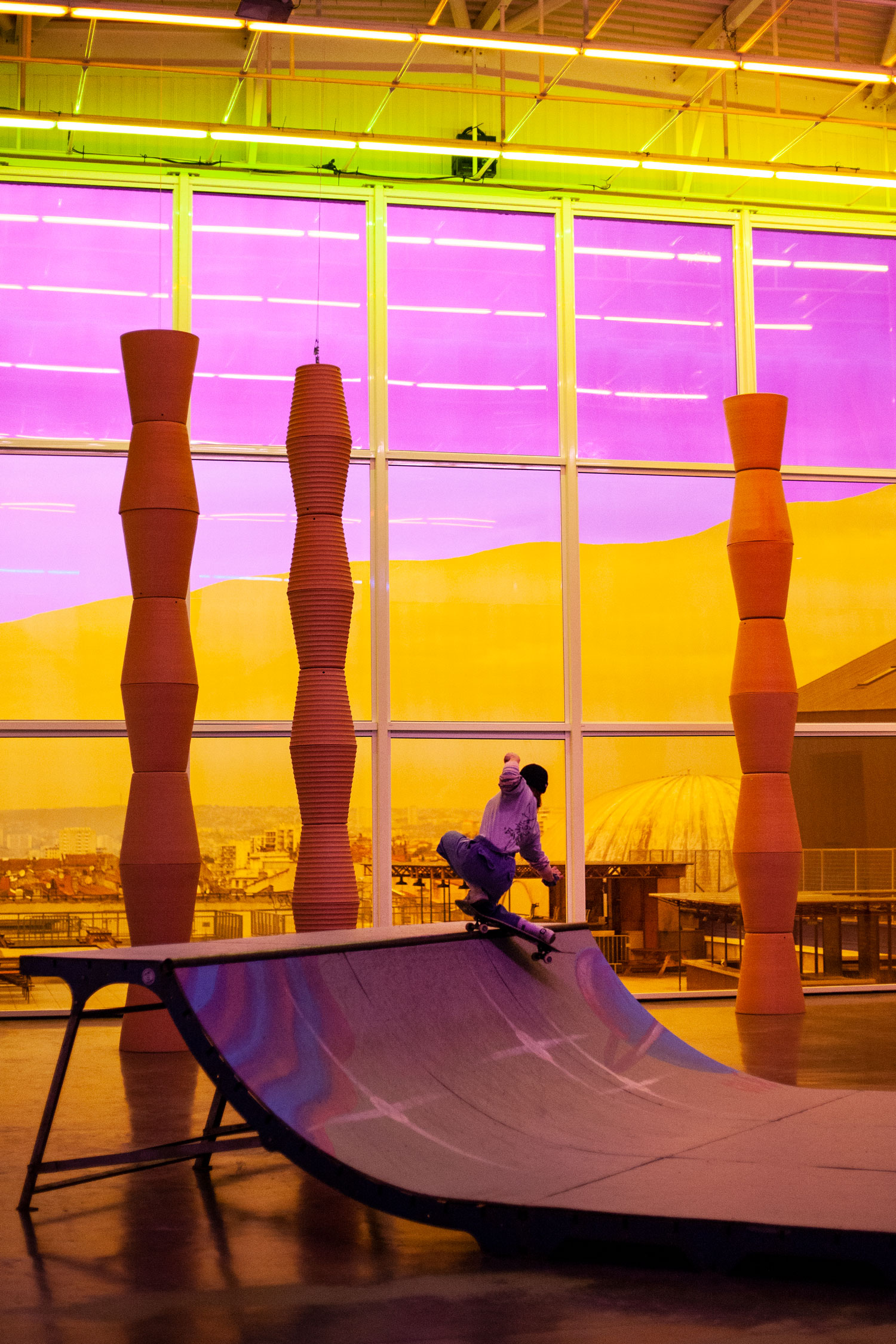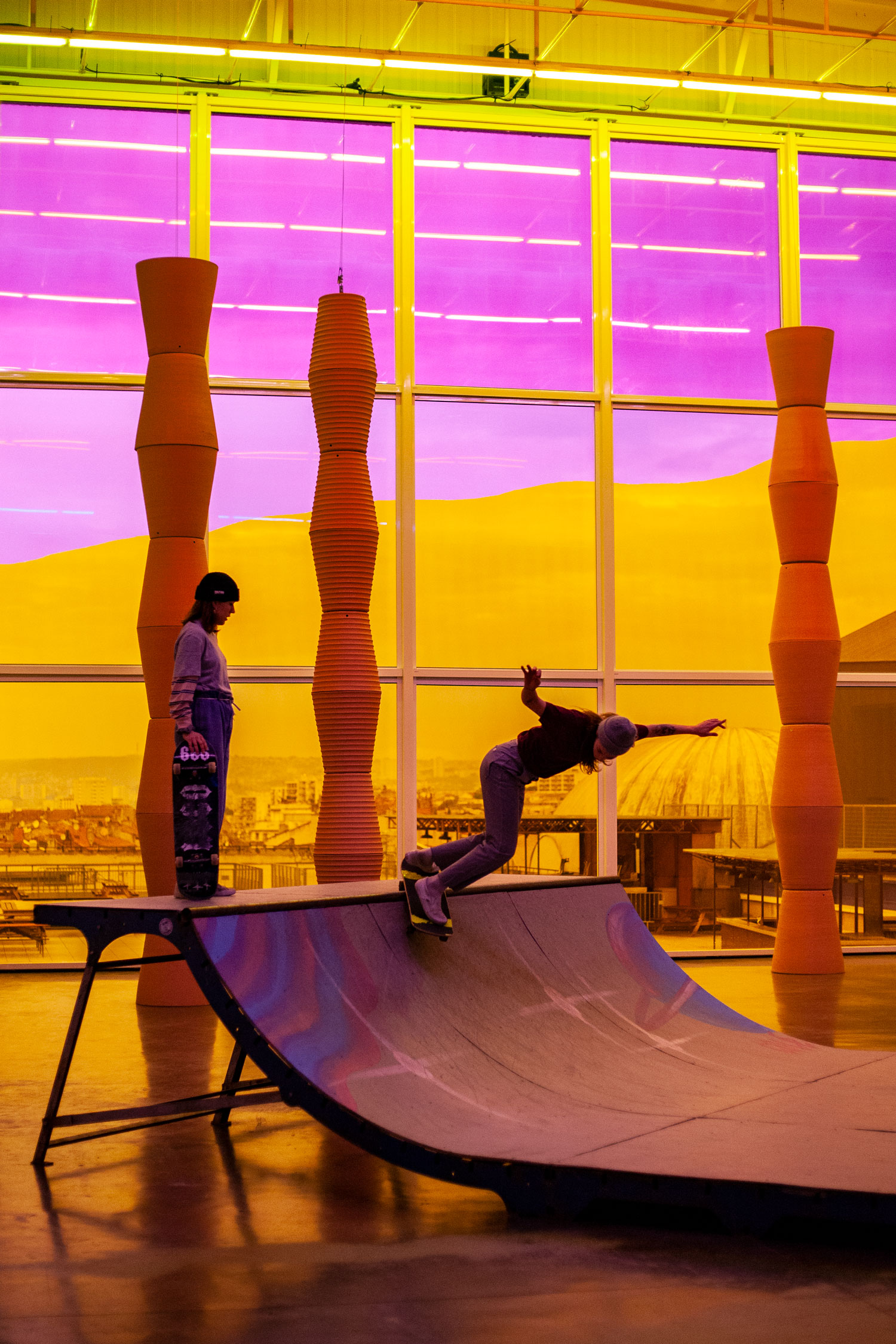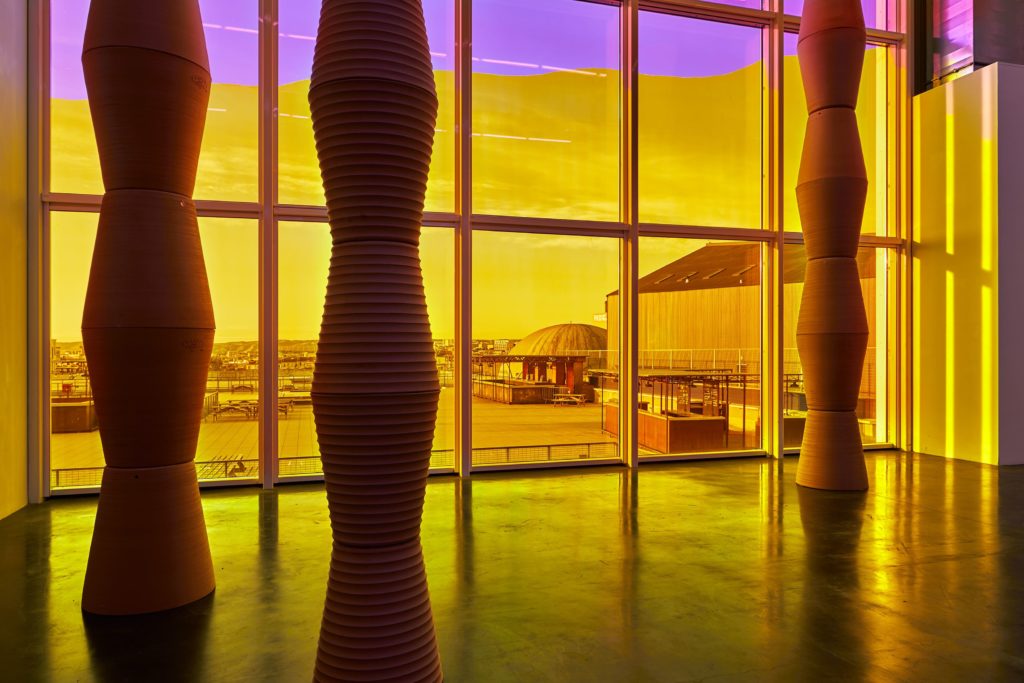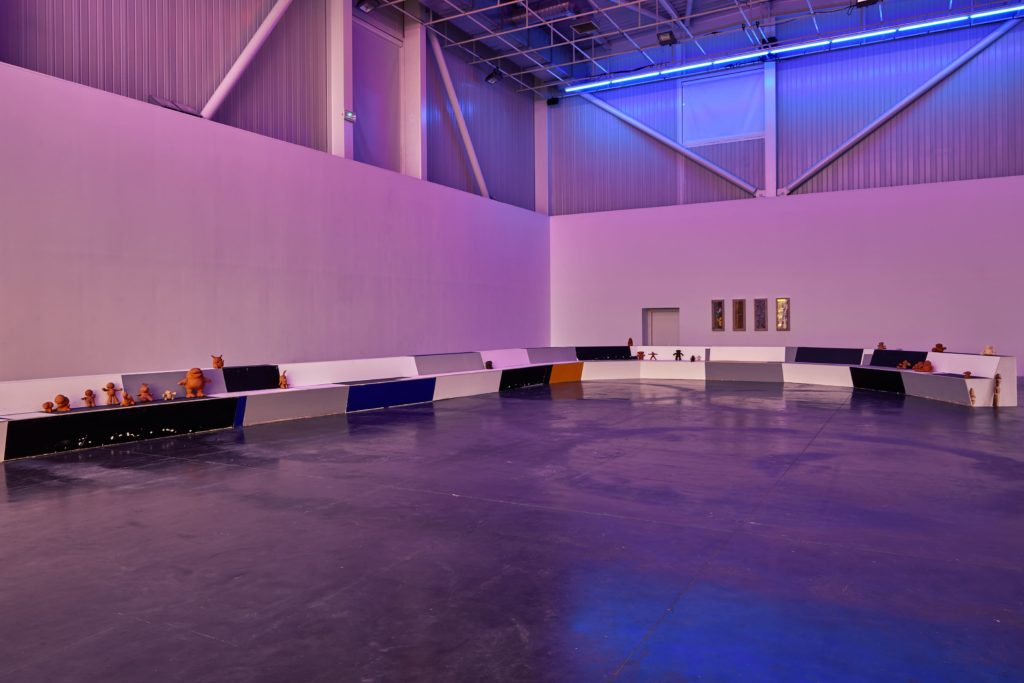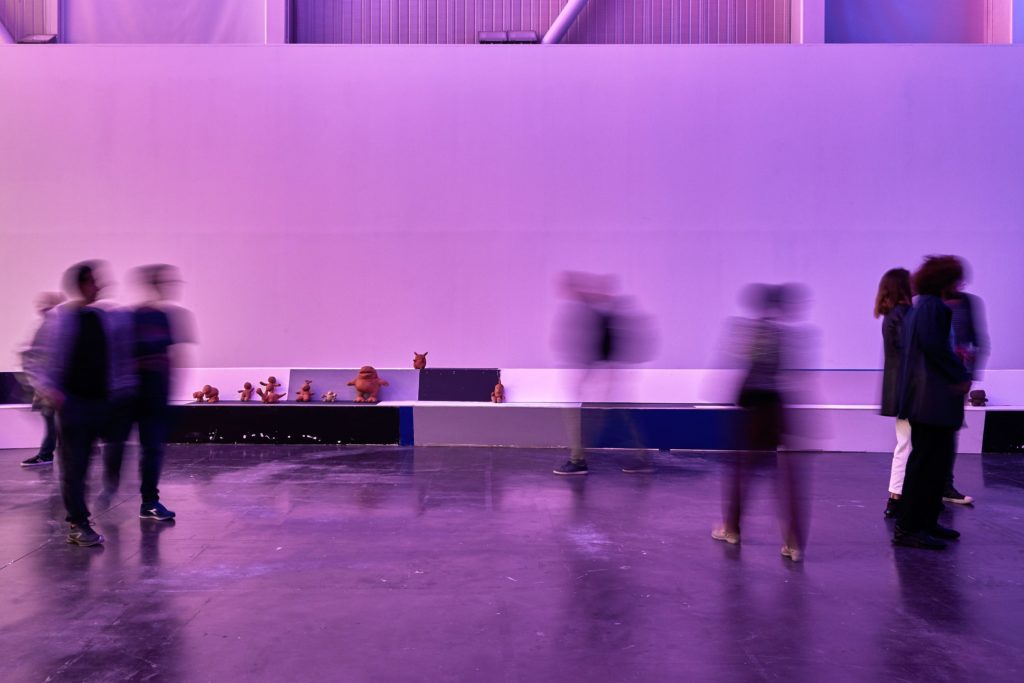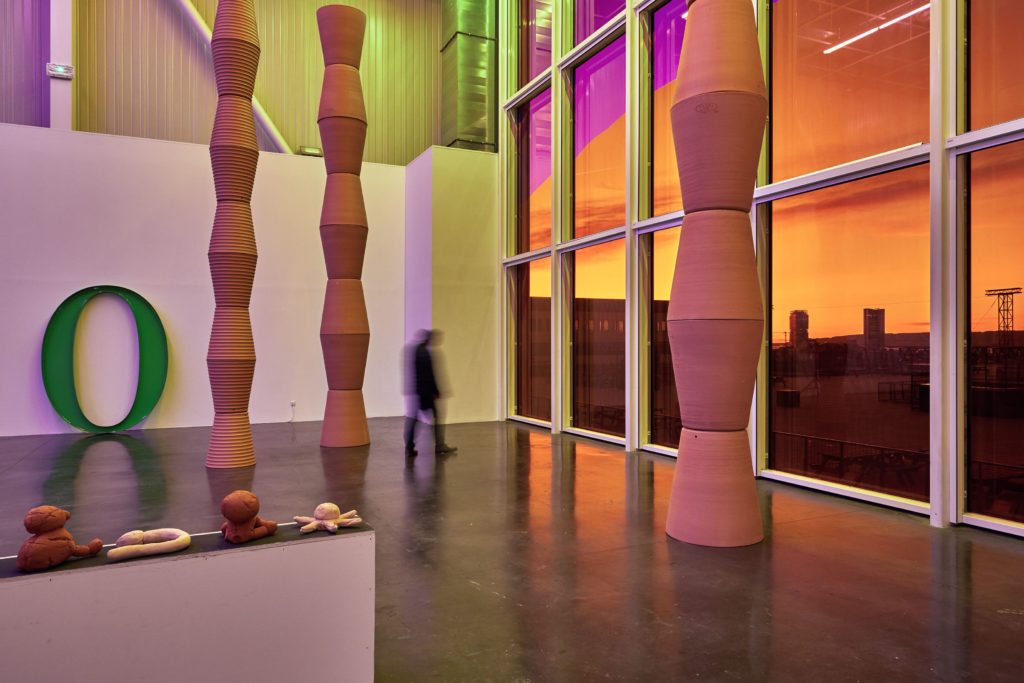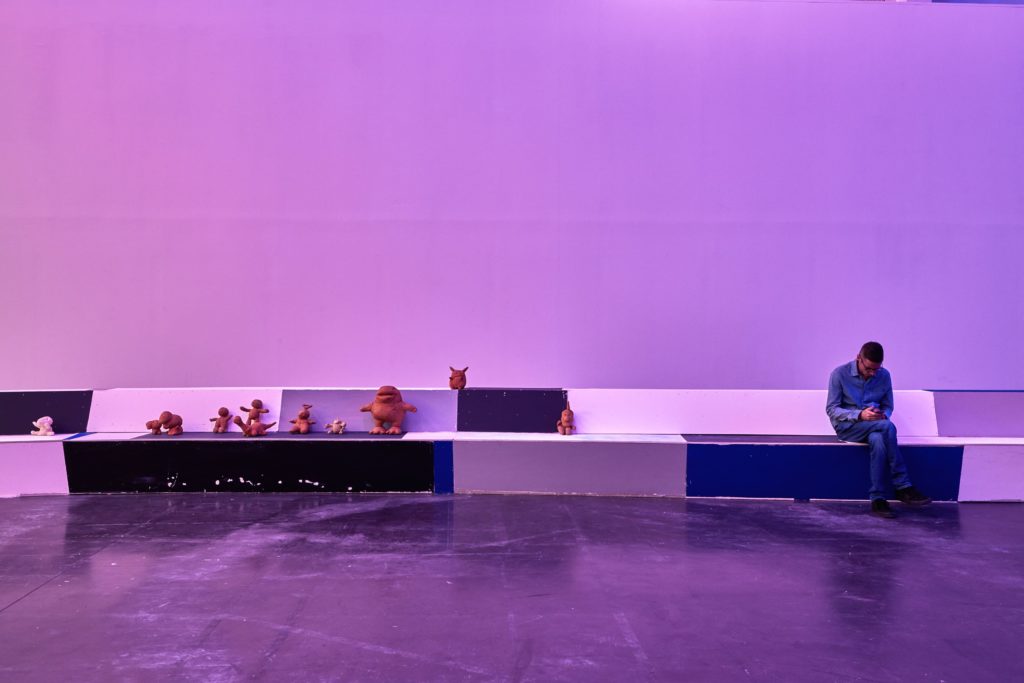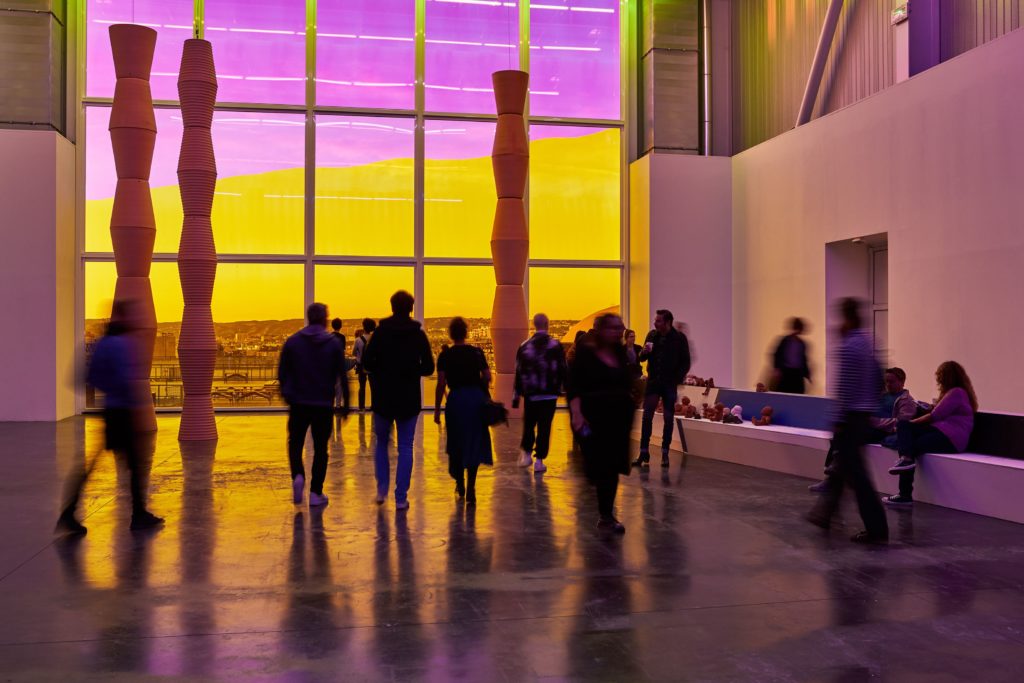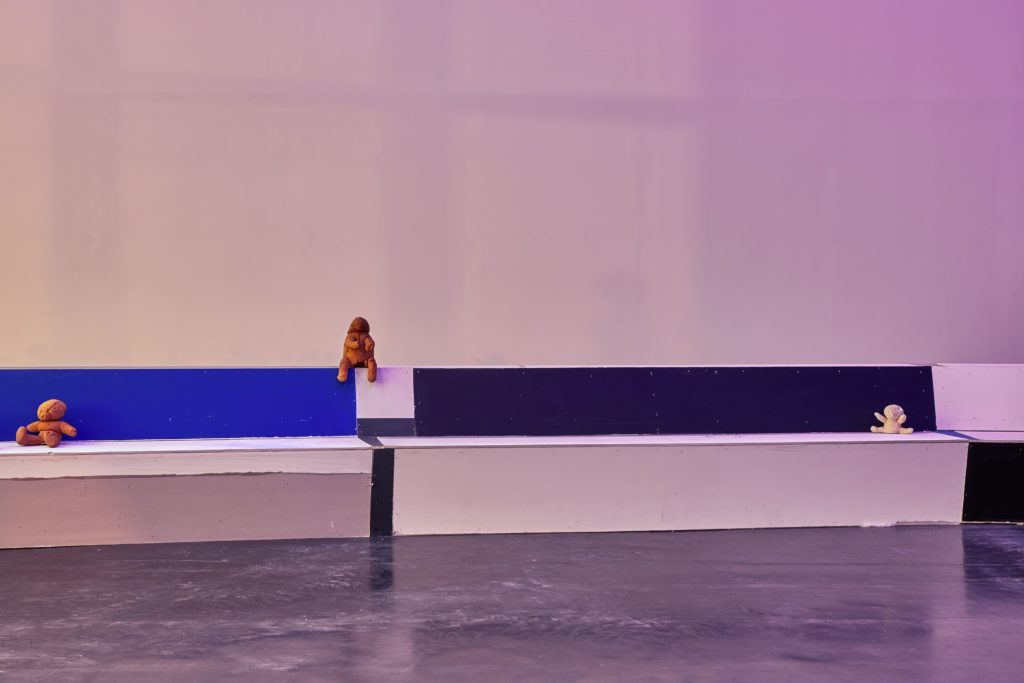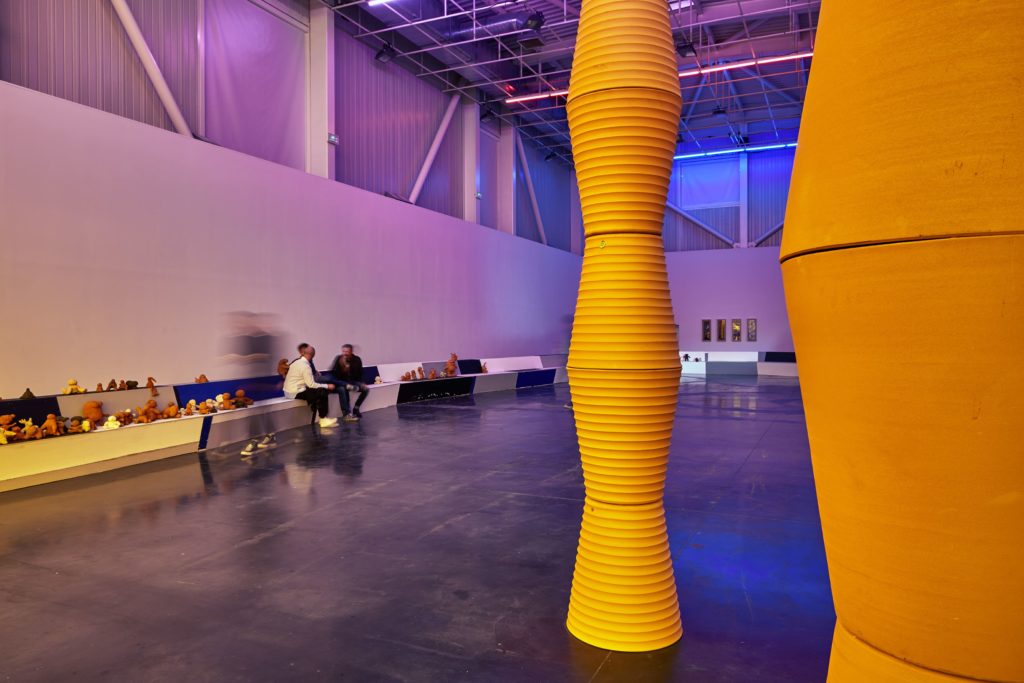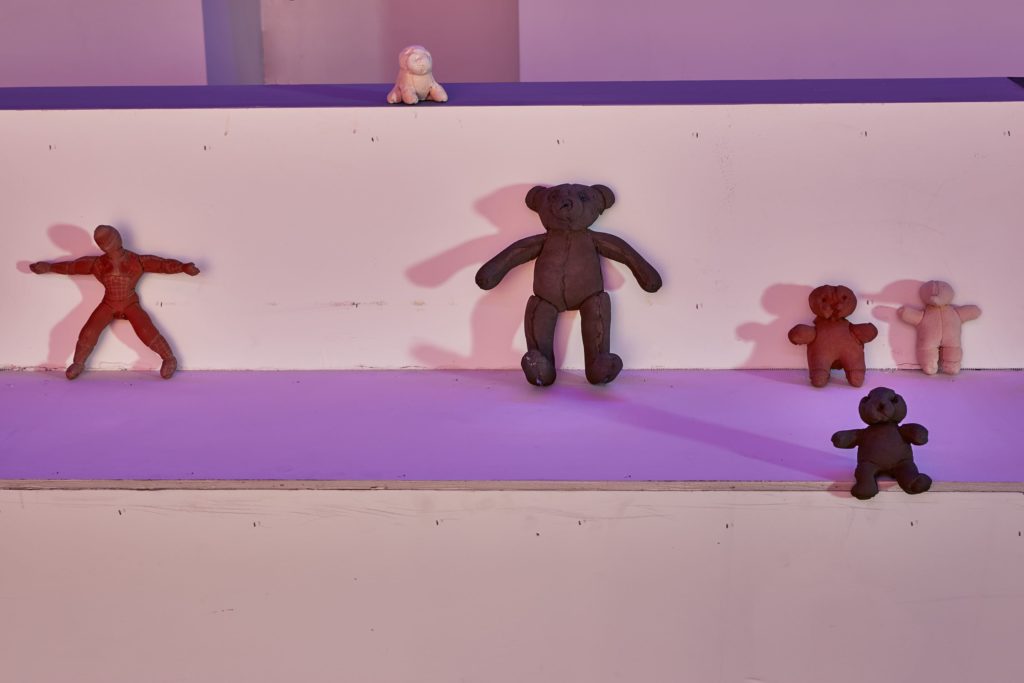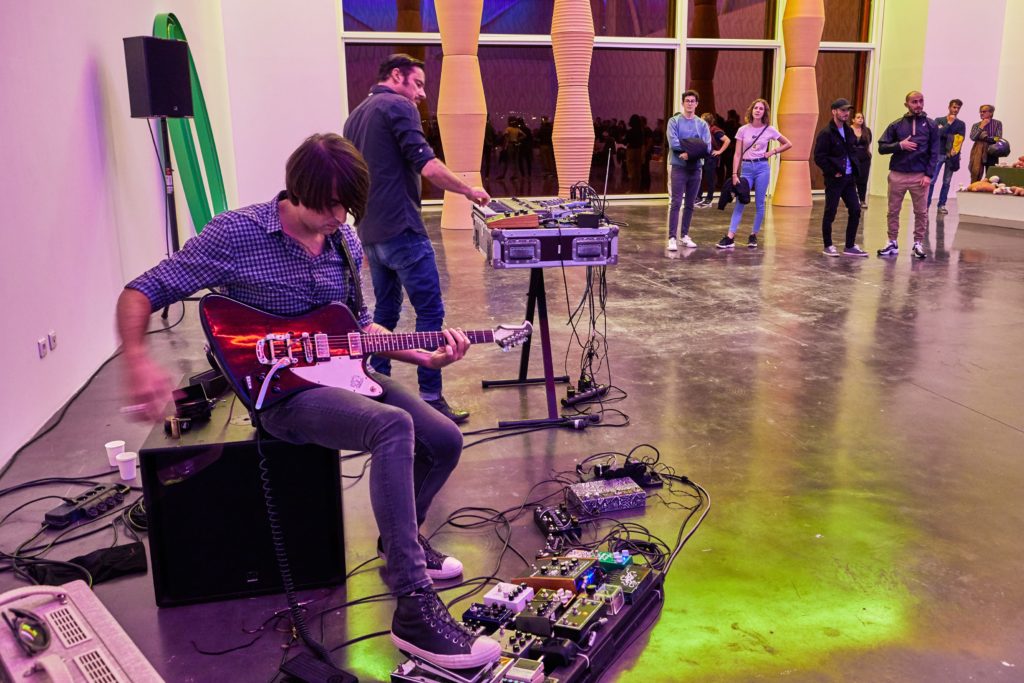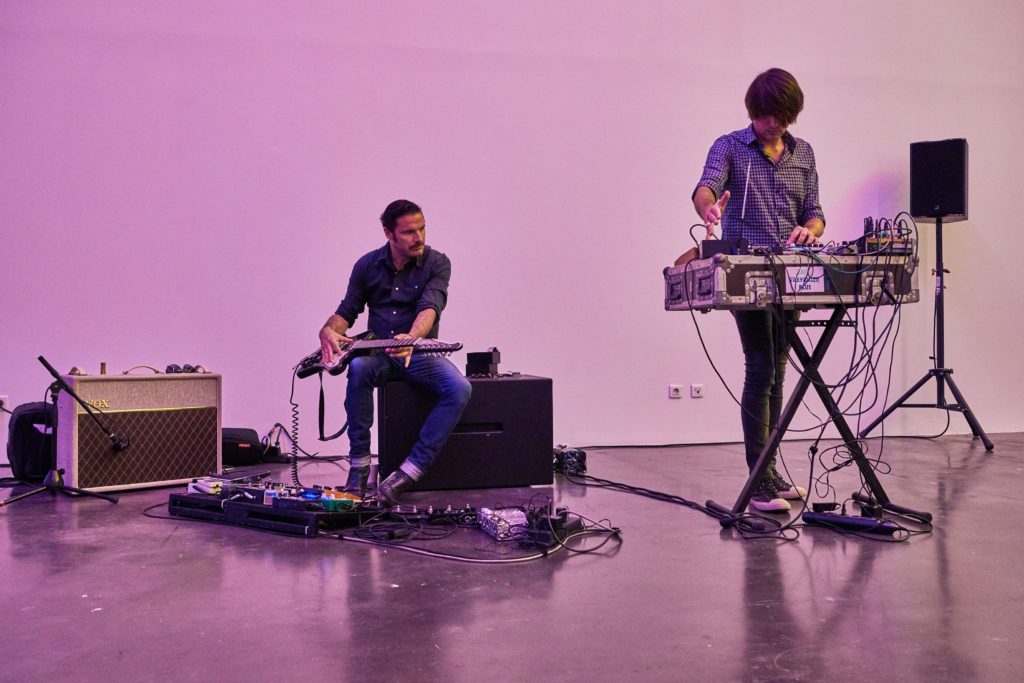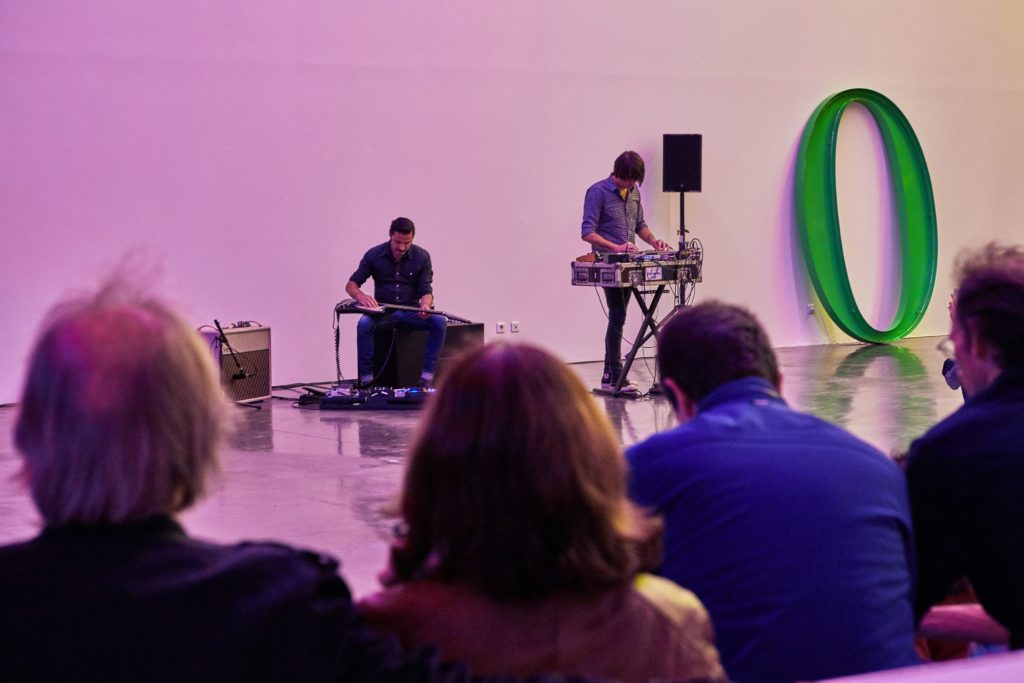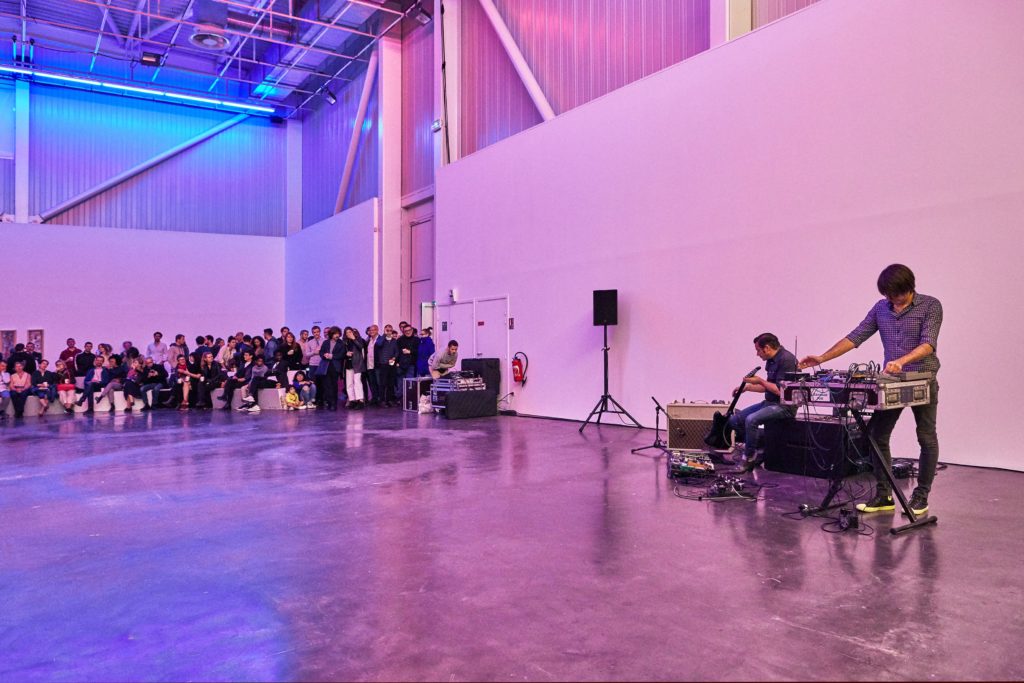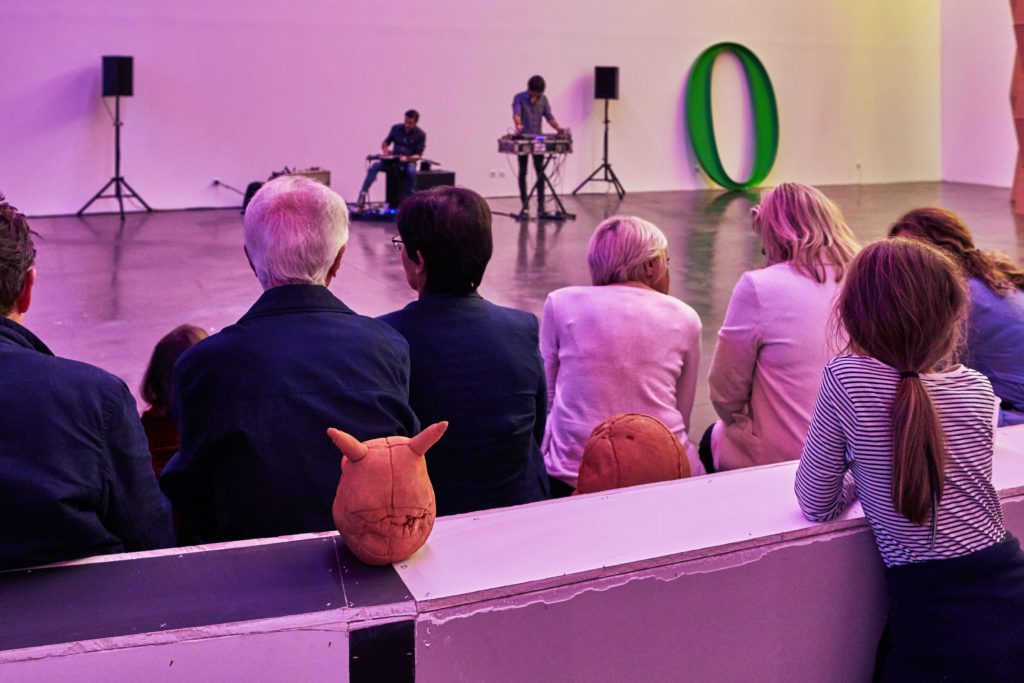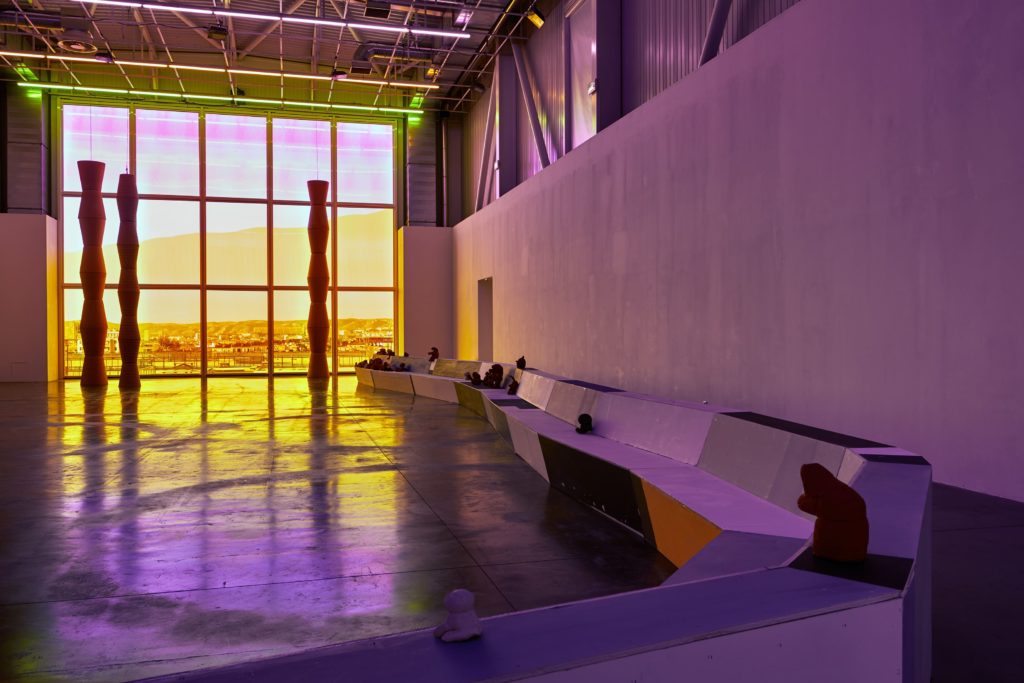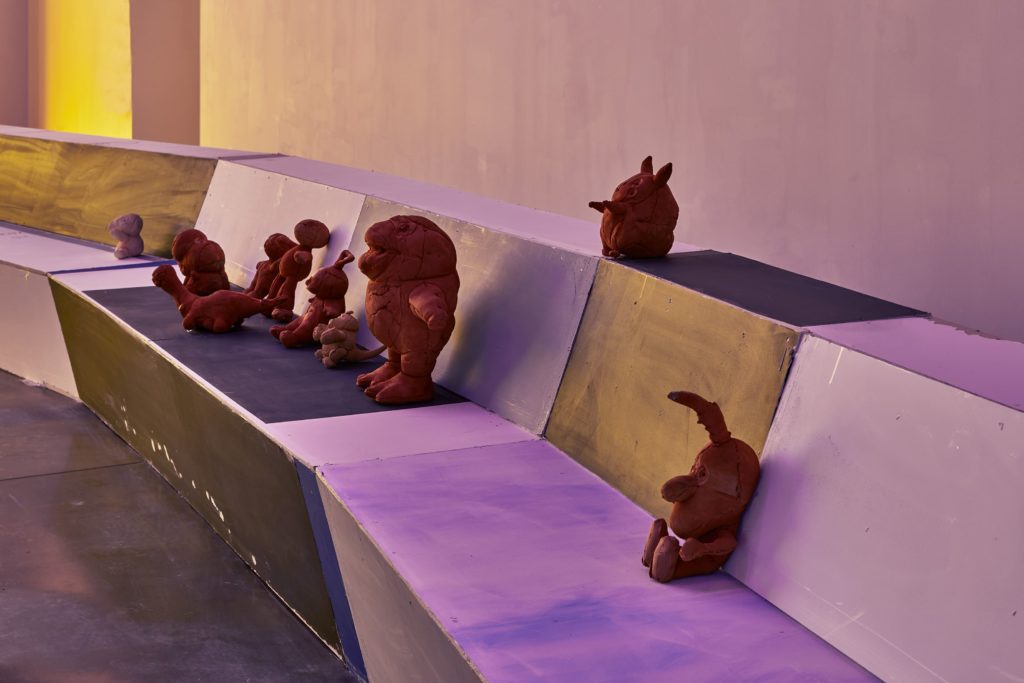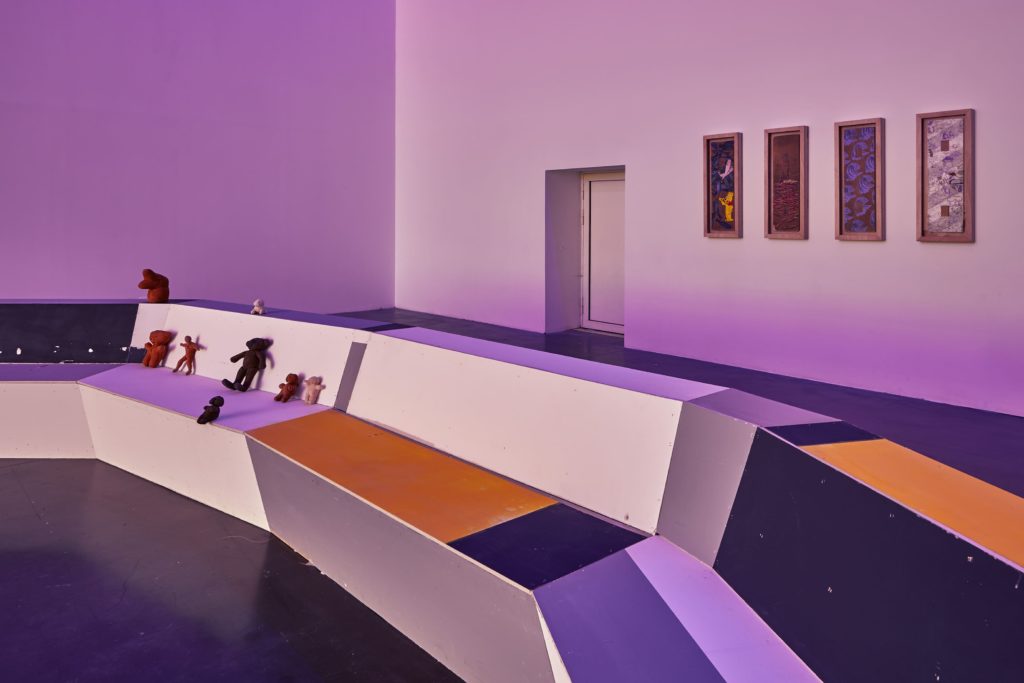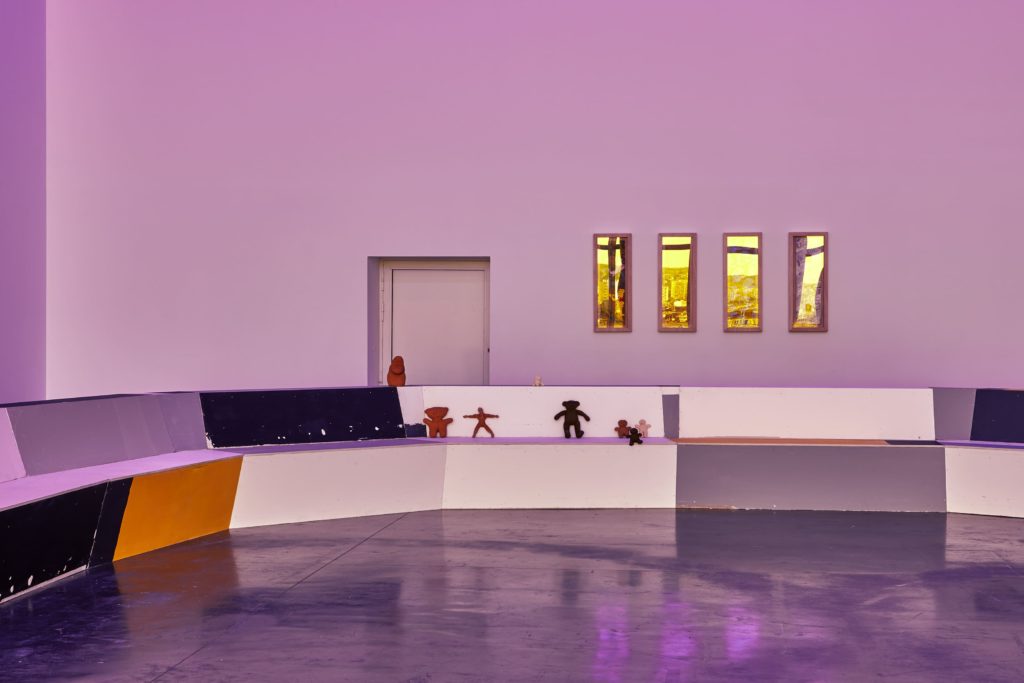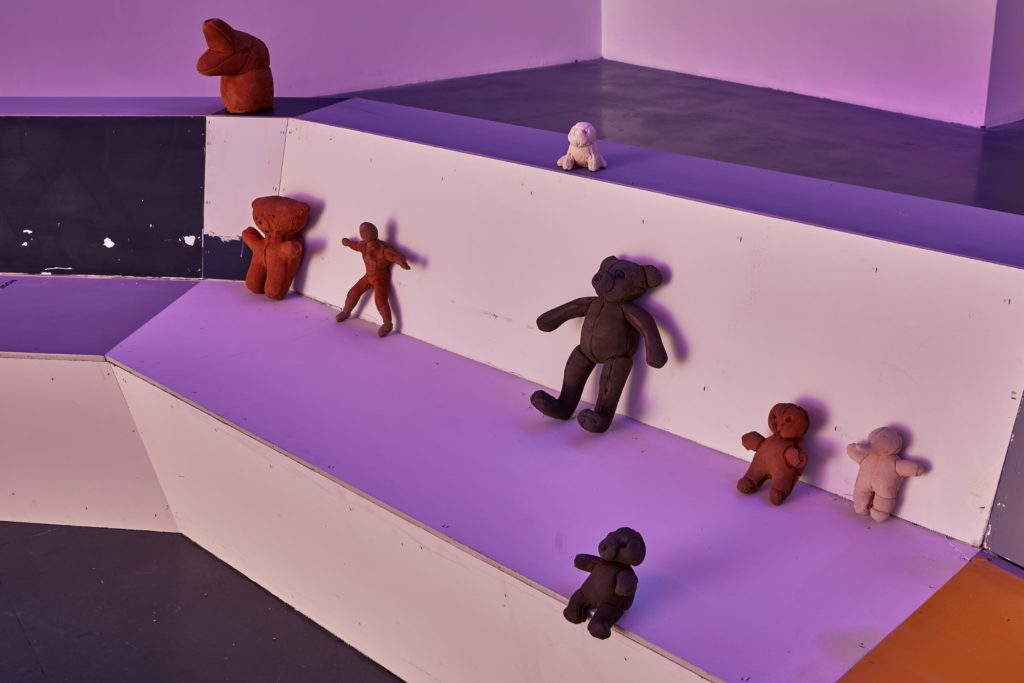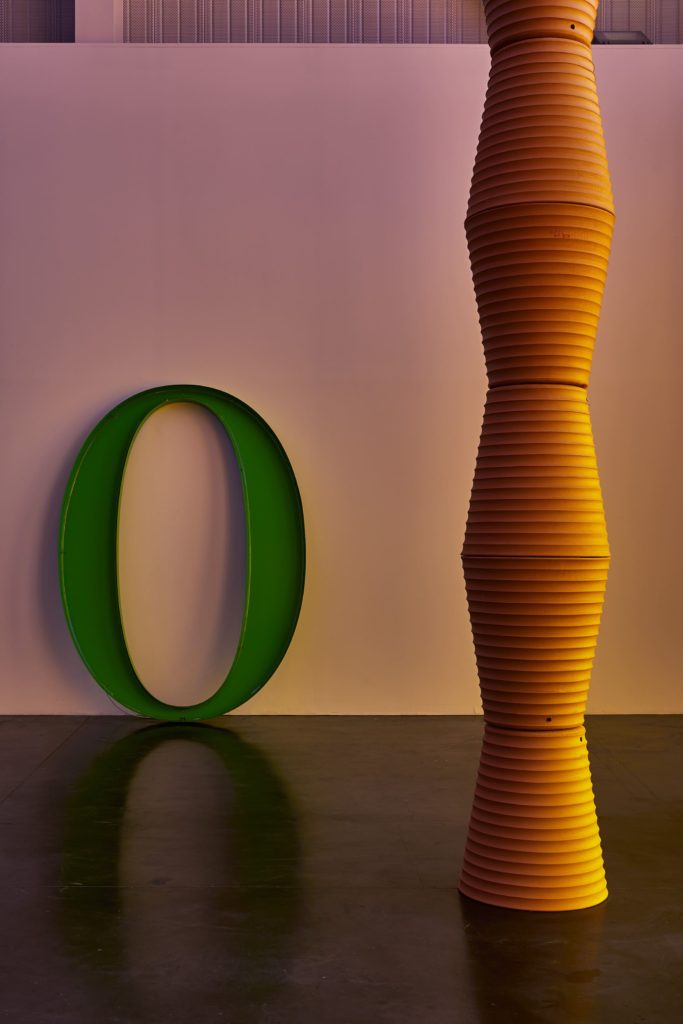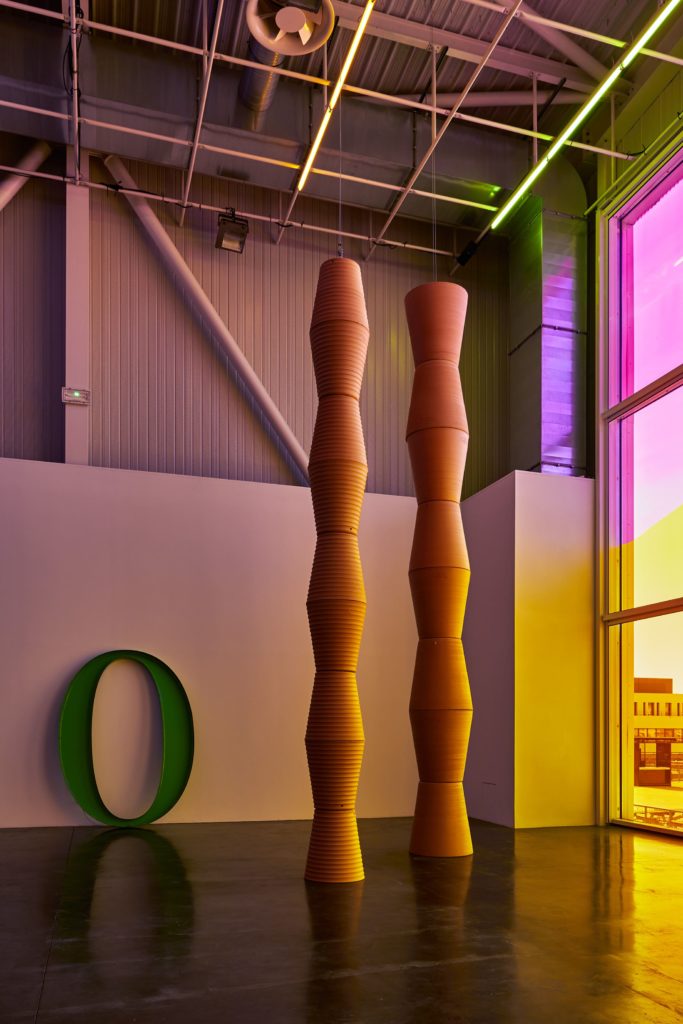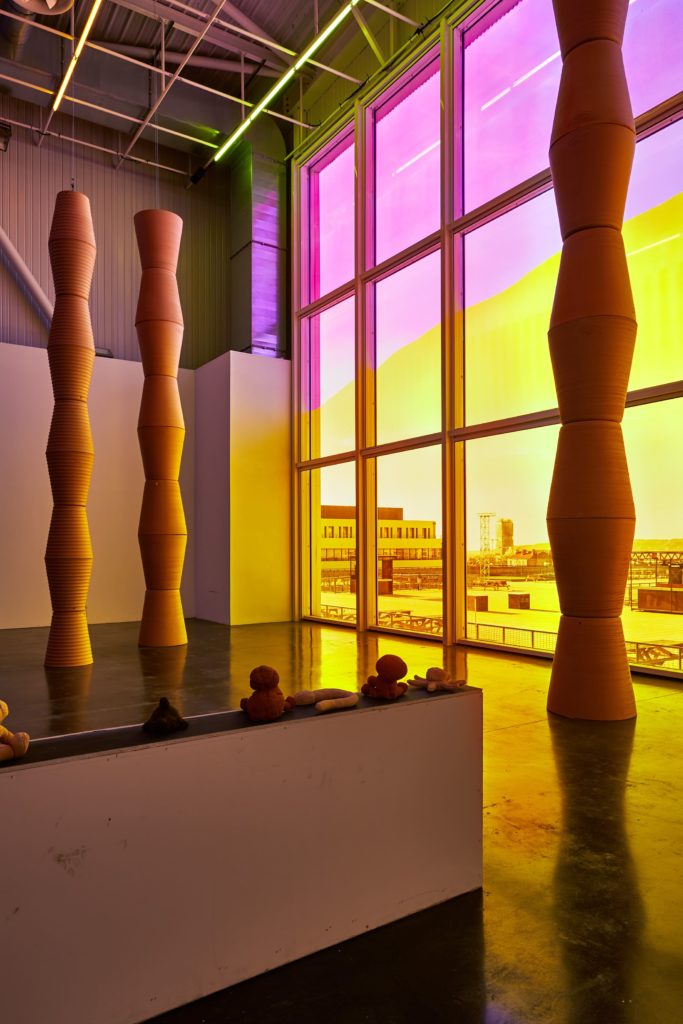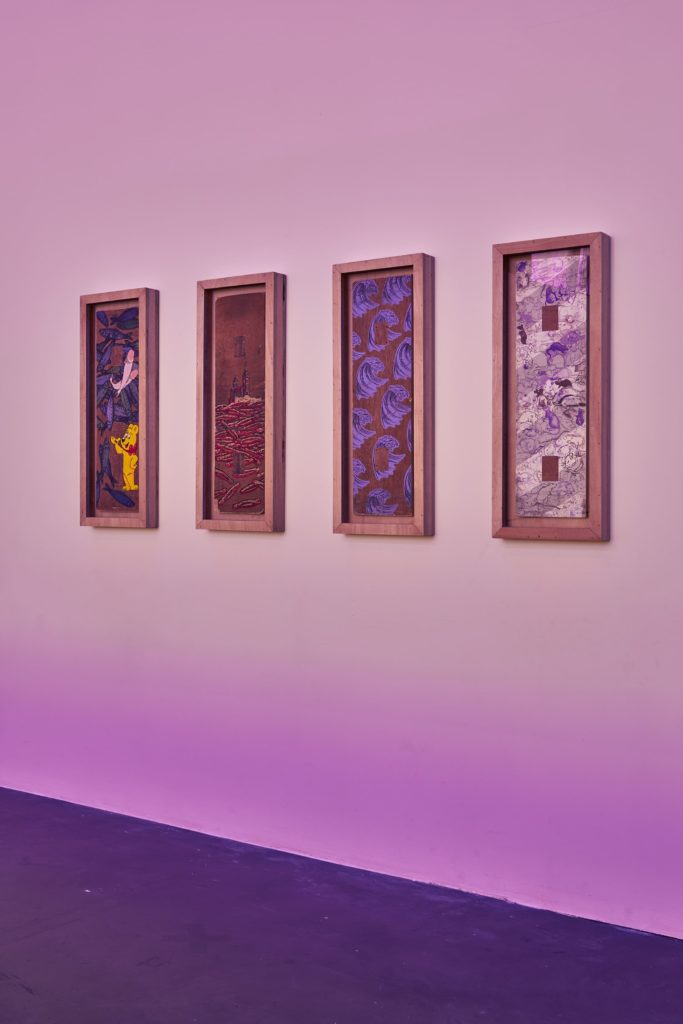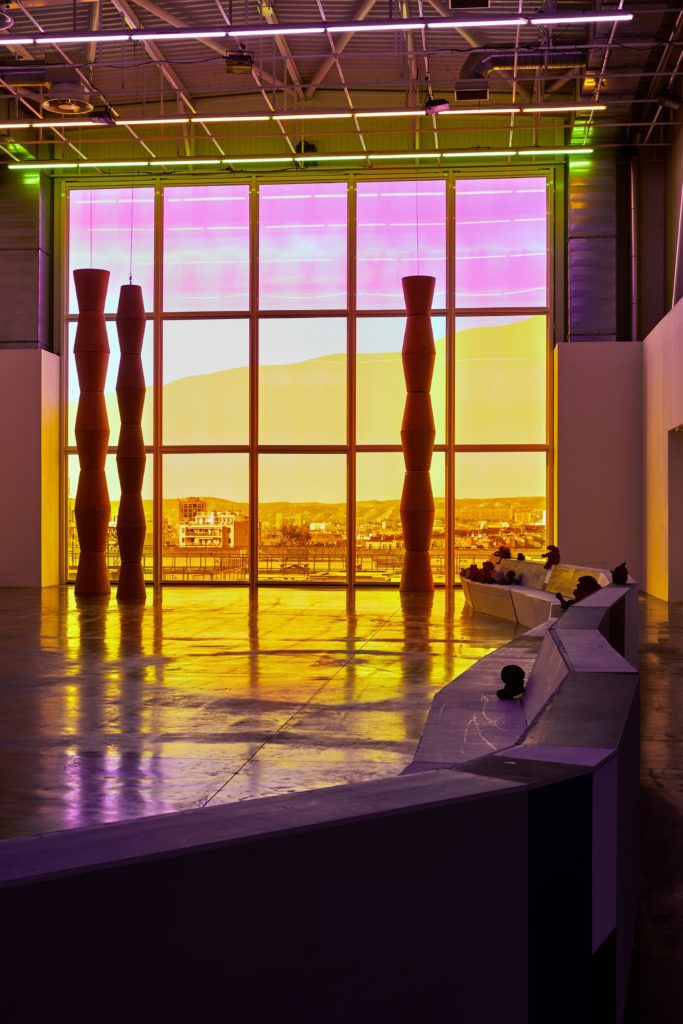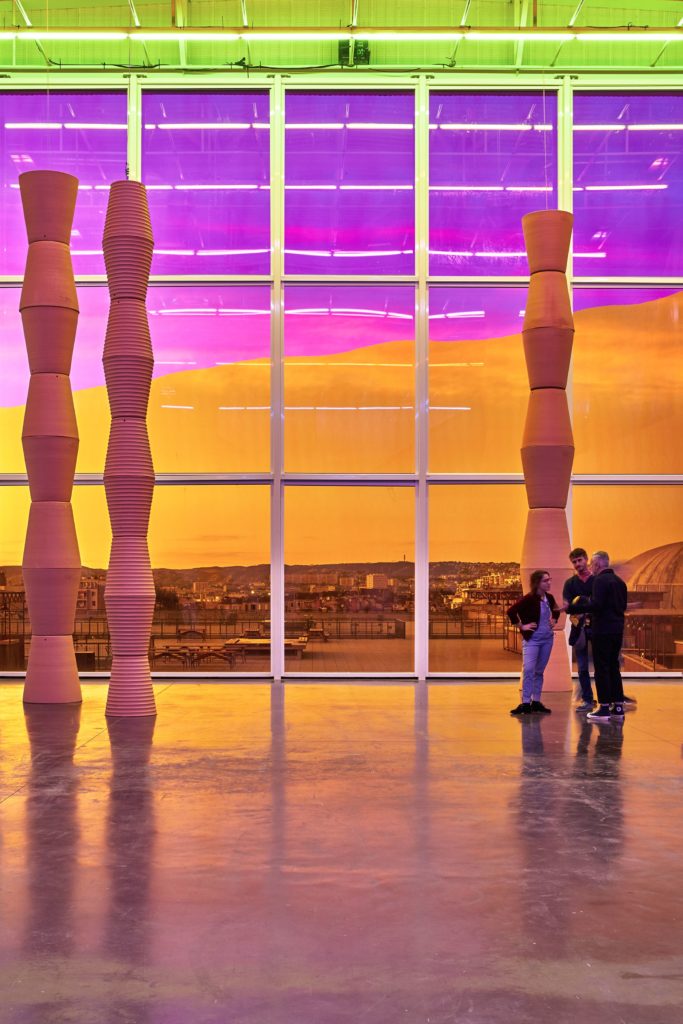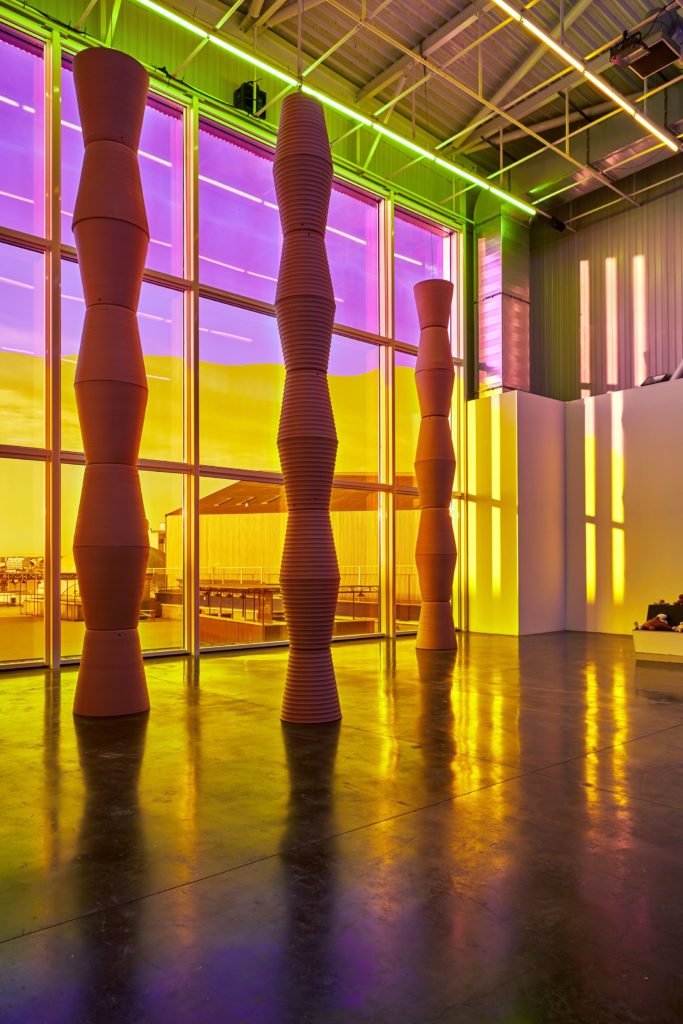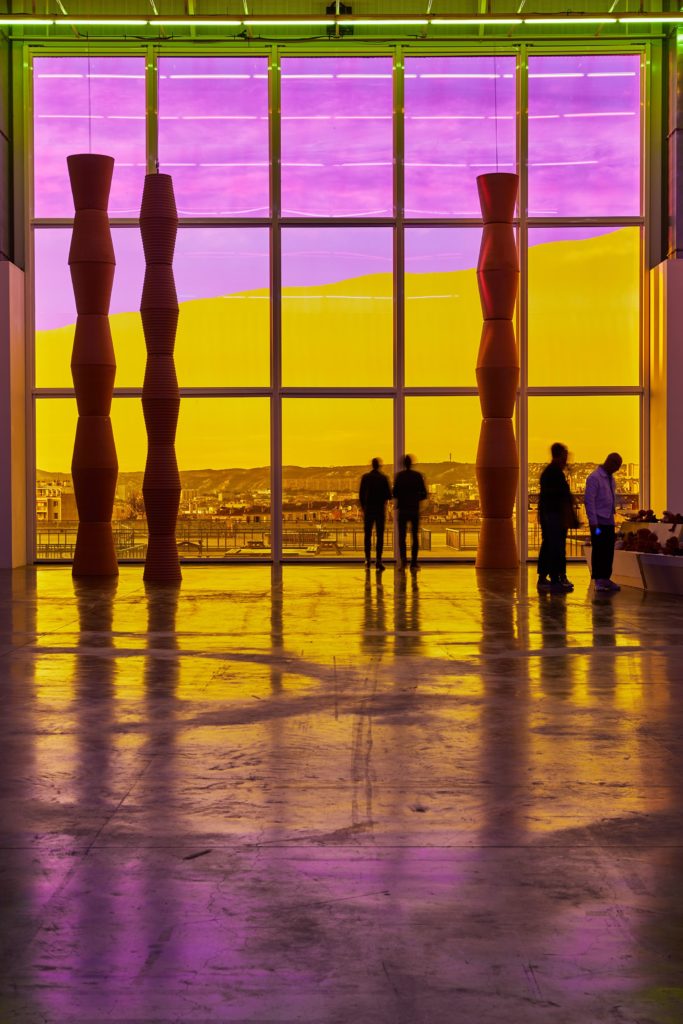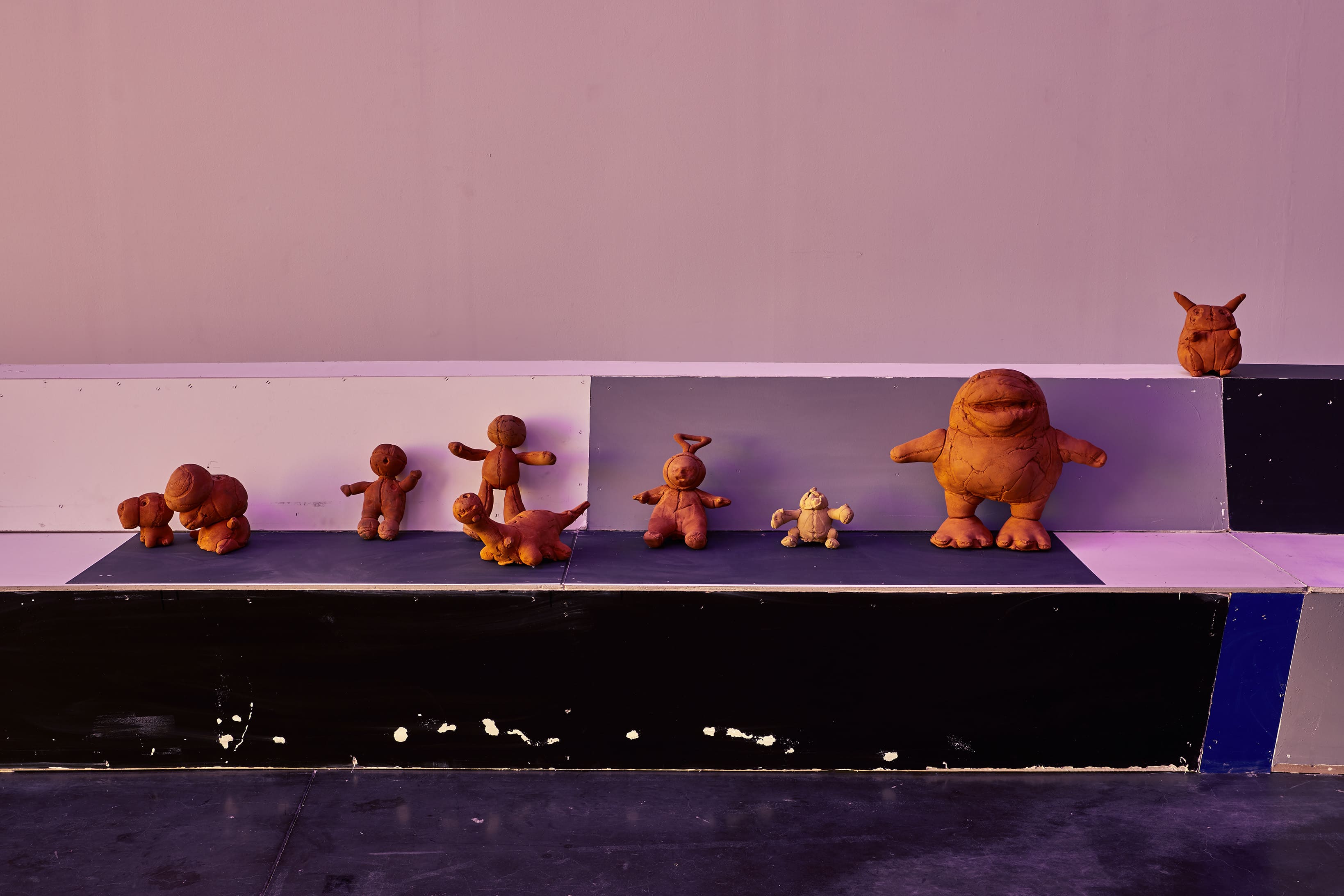 Photos : Jean-Christophe Lett
Photos de skate : Clément Chouleur